Are you looking forward to building your own social networking or community site that could dominate some niche and generate millions of visitors a month? Today, we have many social networking and community sites that have changed the way we live and share information. Each of these sites dominate some niche, with the most famous social and community sites being Facebook, Twitter and Instagram among others. You can also get your own social or community site by easily getting a buddypress theme for WordPress. You could easily get a dominant social or community site by focusing on a certain niche, then selecting a WordPress buddypress theme that best suits your niche. In this article, we are going to talk about some of the best WordPress buddypress themes that you can use to build an effective and attractive social networking or community site. Feel free to choose one of these themes to get yourself a social networking or a community site.
---
Salutation Responsive WordPress + BuddyPress Theme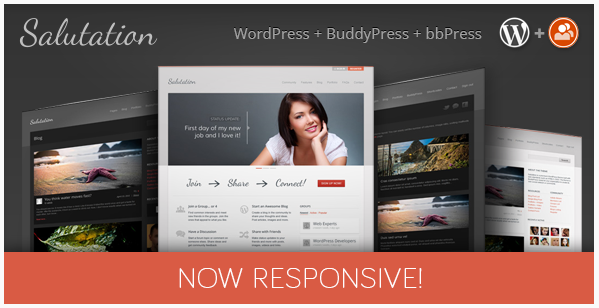 This is one of the best BuddyPress WordPress themes available today. It has a responsive and a very clean design that gives a special focus to content. It comes with bbPress support and a slider revolution included. Customizing the theme is made easy by the unbranded and powerful admin panel which gives one a complete control of the design and layout of their website, meaning that you do not have to be a developer to get started with the theme. This is made even easier by the drag and drop layout manager that you can use to create different page layouts to meet your needs. The theme is easy to navigate, promoting user satisfaction. It also comes with well organized page structures and menus supporting a positive user experience.
---
KLEO – Pro Community Focused, Multi-Purpose BuddyPress Theme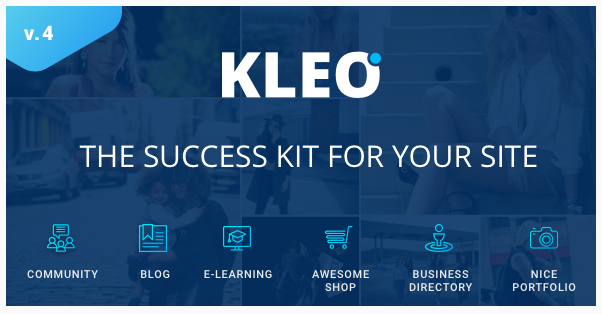 KLEO is one of the most amazing BuddyPress WordPress themes that comes integrated with both bbPress and BuddyPress plugins. It is well designed and one of the best to design a forum or a community website. It has a responsive design and is very easy to use. Its features will make your website stand out from the rest, and will enable you to have unlimited color schemes and sidebars, modify fonts, change layout types, choose between standard and masonry view among other modifications. If you do not have any coding skills, you should not be worried since KLEO comes with an amazing visual composer layout builder that allows you to easily create different layouts for your website and a powerful shortcode generator that you can use to add shortcodes to the pages. This theme will give you virtually everything to create a professional and unique BuddyPress website without the need of hiring a professional developer.
---
Socialize: Multi-Purpose BuddyPress Theme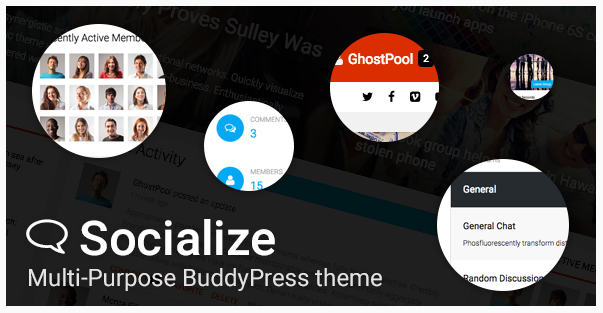 Socialize is a BuddyPress WordPress theme that has been developed with the sole purpose of helping you develop a vibrant and stunning online community. It has practical and rich features with a simple and charming design. Selecting this theme for your BuddyPress website will not go wrong and your site will have the benefit of using the niche specific features that it comes with. Some of these niche specific features include member profiles, user groups, private messages, activity streams among others. It comes with all the BuddyPress widgets transformed into elements for easy working with the visual composer tool that it also comes with. This makes it very easy to customize the website to match all your needs. It also comes with up to nine category layouts, up to six layouts for posts and four layouts for the homepage. This theme is fully responsive, and looks almost the same on all devices, including mobile devices.
---
Woffice – Intranet/Extranet WordPress Theme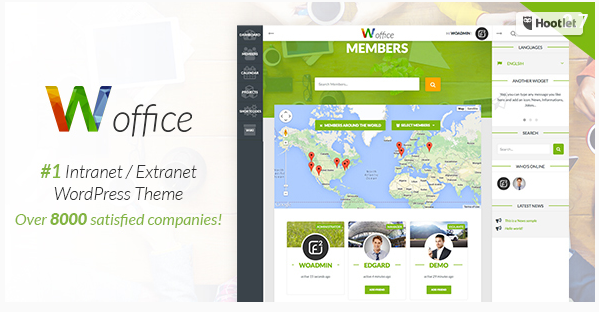 This is another BuddyPress WordPress theme with an elegant and a charming design. It has an intuitive and a very easy to use user interface, giving an awesome experience in browsing to both experts and newcomers. This theme can be used for any BuddyPress website in school networks, government or business, community network, intranet/extranet among others. The theme is fully responsive with a layout that can adapt to any screen size, meaning that you will not have to be worried about which devices your site visitors are using. It comes with a powerful page builder tool that gives you more than three hundred options to design the layout of your pages. It is quite easy to download and install, and comes with a number of free extensions such as a project manager, Wiki, FunFacts, Cover, Auto Updater and a Directory extension. It also has a special focus on security, with control over access on all the pages. This is one BuddyPress theme that you can be sure of in getting an attractive and a BuddyPress site that will deliver on its targets.
---
Blackfyre – Create Your Own Gaming Community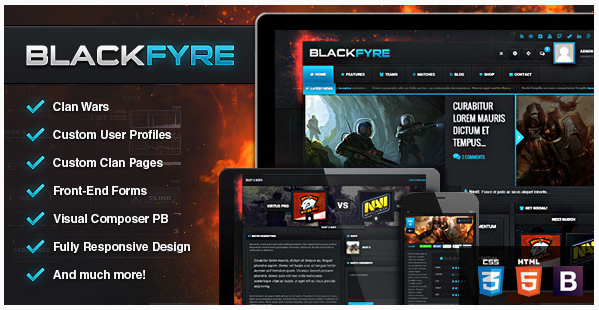 This is one of the very few available BuddyPress themes that are dedicated to giving gamers an online platform to interact and share ideas about their gaming world. A BuddyPress site designed with this theme can be used by gamers to share content, find influential clans and compare gaming statistics. If you are a gamer, with no developments skills and would like a social networking site to interact with your fellow gamers, then this is the theme for you. It comes powered with a visual composer that you can easily use to design pages for the site. The limitless collection of options in colors and layouts, CSS3 animations and styling will help you build a site that perfectly meets all your requirements. You can even upload your own personalized backgrounds with a pre designed layout for different clans. The theme has been built based on the modern Bootstrap framework with a completely responsive layout. Get this theme and make interactions with your gaming friends and community easy and interesting.
---
BuddyApp – Mobile First Community WordPress Theme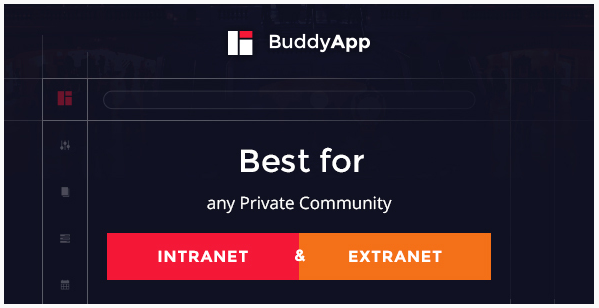 This is another beautifully designed BuddyPress powered WordPress theme that can be used in enhancing extranet or intranet as well as public and private community pages. Using this theme will make your site stand out from the rest due to its adaptive layout and a creative design. It comes with a mobile first design due to the developers' desire to accommodate handheld devices. It also has support for all modern browsers. The theme has been designed with a system that is similar to any mainstream social media platform. For example, when you receive a message from your team or group, you will get a notification. Changing the site colors and settings on this theme has been made very easy with its live customizer. You can change these things within a couple of seconds to get what you would like to have even if you do not have any coding skills. It also comes with an amazing Ajax search function which searches through all your members, groups and posts. It has an Ajax live chat feature that allows users to communicate easily with whoever is online.
---
Slimvideo – Video WordPress Community Theme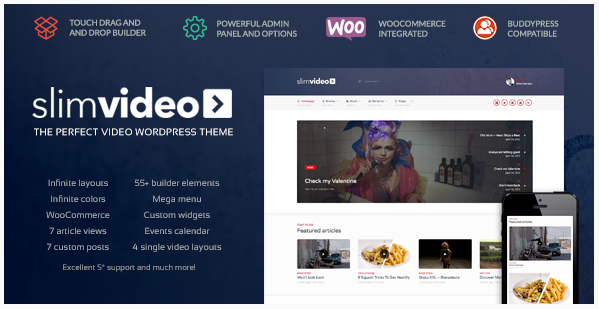 Slimvideo is a BuddyPress WordPress theme that gives you the power to bring people together by creating a powerful community network. With this theme, you will have the capability of having total control over everything. The theme allows you to make all the creative decisions, implement custom posts, have gallery custom posts and even video custom posts. It comes with an amazing mega menu and a multi column layout. It has up to seven distinct post views with various options ready for use. All the posts are fully responsive and can be easily accessed clearly on any device. The theme also comes with demo data up to four built in sliders which can be easily customized with new slides new content to match your needs. The theme's system allows site visitors to leave comments and like content and posts. It also has support for multiple languages and it is WooCommerce ready for those who would like to offer services and products for sale.
---
Porto | Multi-Purpose WordPress & Ultimate WooCommerce Theme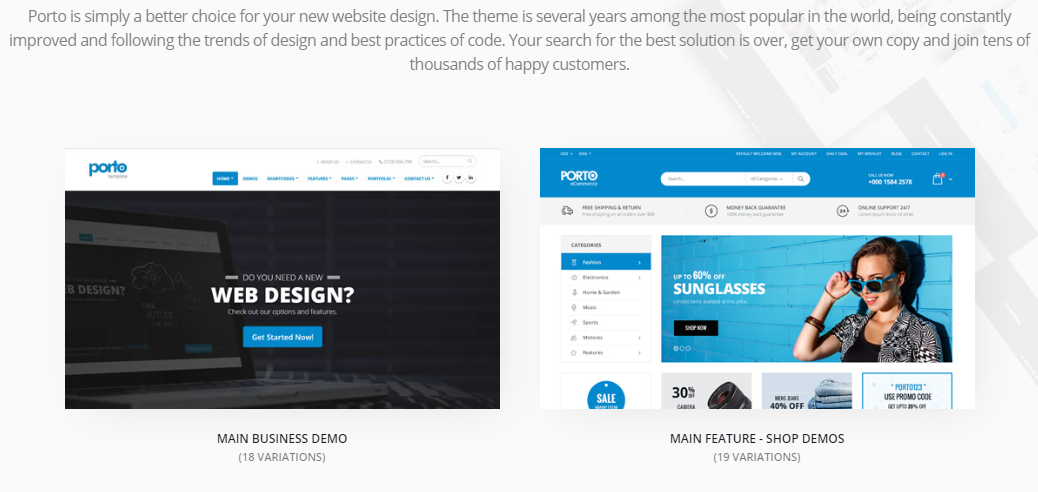 This is one of the very few BuddyPress WordPress themes that has been designed with a special focus on proper social interaction. It comes with a series of useful plugins with each plugin working to expand the capabilities of your website while at the same time increasing the site's view count. This is a theme that can be used around the globe, with its RTL support giving support for many other languages such as Japanese, Arabic and Hebrew. With this theme, you will be able to change your site's layout style by using either a boxed or a wide layout with either light or dark color schemes. Downloading this theme will also come with a detailed documentation that will effectively guide you through the most important steps in creating a site with the theme. It also comes with the WooCommerce plugin which will help you in integrating an online store to your BuddyPress website. The theme has also been optimized for search engines, giving you a better chance of climbing up the ladder in search engine results. We can not forget that it comes with a master slider and an interactive visual composer.
---
SocialChef – Social Recipe WordPress Theme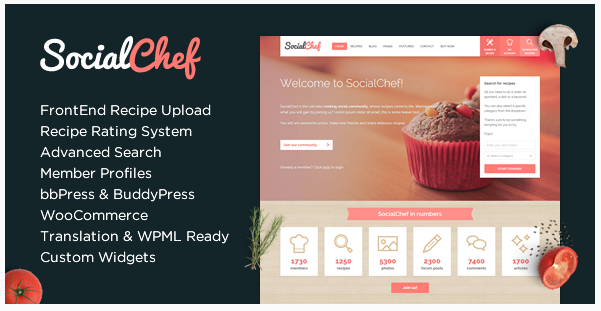 Are you a chef or just a person with special interest in cooking or making recipes and would like to create an online community where like-minded people can interact and share ideas? Or are you just a person who would like to help people with such interests interact? Then, Social Chef is a BuddyPress WordPress theme that has been developed with people like you in mind.SocialChef is a beautiful, clean and responsive theme that comes with advanced search and front-end submissions as well as community features such as forums, groups, member profiles and activity feeds. The theme offers an unlimited support for both BuddyPress and bbPress. It is packed with many amazing features and has been designed skillfully to create a forum site for users to share recipes and ideas about cooking. It is responsive to make sure that visitors can access it from any device without any problems. Using its front-end submissions, recipes are formatted to make them easy to follow. Add the prep time, cooking time, skill level, servings, category, ingredients and nutrition facts. You can even add numbers to the cooking steps so readers do not get lost when following along with the recipe. This is a theme that you can be sure of if this is your niche.
---
Kudos BuddyPress Theme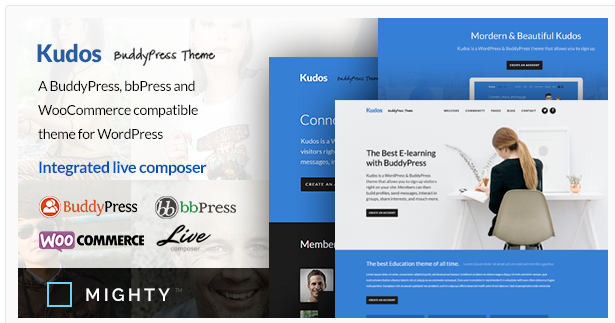 Kudos is a BuddyPress WordPress theme that has been designed to resize and fit well on any device and help you take your online community to the next level. With Kudos, you are able to sign up visitors right to the website and the members can then be able to build their own profiles, interact in groups, send messages, share interests, like and comment on posts among other things. It offers you a number of layout options among them standard, full width or boxed layout for your website. The theme comes with page templates that you can choose from to get started with your website. There is also unlimited color options, many font choices and many more cool options to choose from. You can build as many custom menus as you want that can help you guide your site visitors to any place that you would like them to be. The theme has been developed using HTML5 and CSS3 that will help your website keep up with the latest web standards.
---
WPLMS Learning Management System for WordPress, Education Theme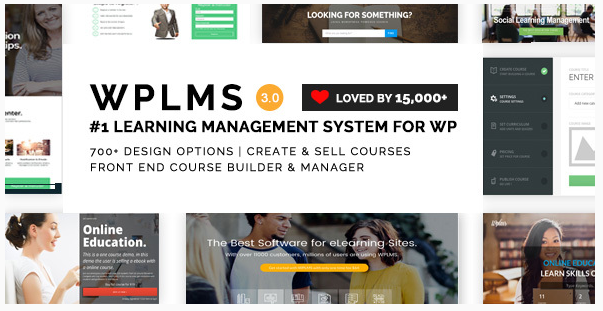 This is the only WordPress learning management system that also has a mobile app with it. It is more of a complete eLearning system that can be used by educational training centers, coaching centers, corporate training, course tutors, academies, colleges, schools and universities among others. It is a BuddyPress supported eLearning WordPress theme for instructors, course management and student management which can be used to create and sell courses online. With this theme, you can create your own eLearning academy for example or any online learning business similar to the one provided by some very popular sites such as Lynda.com and Udemy. The theme is scalable, flexible and robust and provides a BuddyPress layout with privacy solutions that give you an opportunity to build a lively online community for students and instructors. The theme comes with amazing sliders such as the FlexSlider and LayerSlider that helps you create sliders with nice visual effects and animations. This is a theme that you would not have to overlook if you are creating an online platform for education related content.
---
Cardinal – WordPress Theme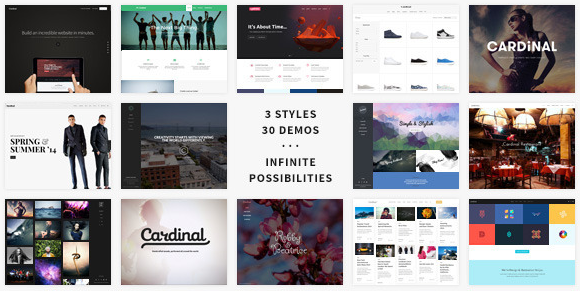 Cardinal is a WordPress theme that is beautifully designed to give support for those in need of creating a BuddyPress website. It comes retina ready and smartly resizes on any device's screen to create an amazing viewing experience for your site visitors. The theme comes with three styles and up to thirty demos to help you tailor the theme to meet all your requirements. When getting started with this theme, you can use the demo content importer to import demo content and get started with the demo you chose, all the settings, fonts, colors, styles among others. The theme has been developed based on Bootstrap and employs the latest techniques in the world of web development. It comes with a powerful page builder with over forty-five elements and over fourteen layouts that have been pre-set. This helps you arrange your website layout by just using the drag and drop functionality. It has genius shortcodes that work very well with the integrated page builder. You would not need to have any coding skills to get started with this theme. We can not forget the built in mega menu, parallax effects, amazing loading animations and the unlimited portfolio and blog pages that this theme come with.
---
Mindig: a Flat & Multipurpose Ecommerce Theme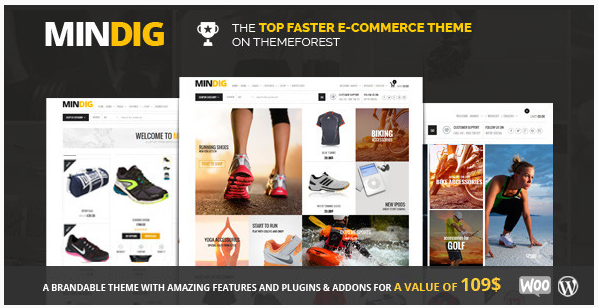 This is a beautiful, flat and modern WordPress theme that has been designed for multiple purposes, among them the support for BuddyPress. It is very good at helping one create a unique and an amazing social website and provide a better experience to your site visitors. The theme comes with unlimited layout options and gives one an opportunity to customize the design and appearance of your theme without any difficulty. It also comes with over fourteen demo layouts that are ready to use and are suitable for community sites, forums, shopping and corporate sites. It also has a drag and drop visual composer page builder that makes it easy for any person to build the layouts of their pages without touching any line of code. The theme has support for live chats and comes with slider revolution and essential grid. It has an Ajax search and an amazon styled left side vertical navigation. You can use this theme to get an awesome BuddyPress website as well as other niche websites.
---
Buddy: Multi-Purpose WordPress/BuddyPress Theme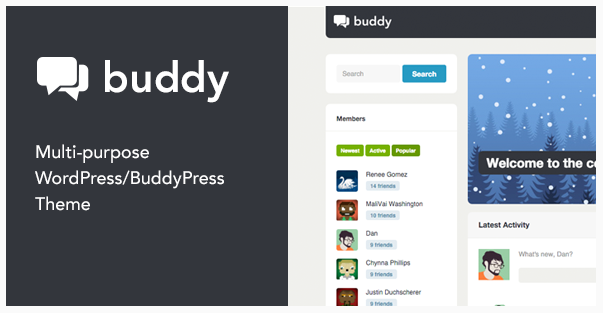 Buddy is one of the few fully responsive and modern WordPress and BuddyPress themes that are lightweight. It can be used for almost any website, from business, community, corporate and portfolio websites. You can even decide to use this theme without BuddyPress and bbPress if you want, but since this post is about BuddyPress themes, we are going to describe the theme with BuddyPress. The theme comes with a detailed documentation and an available free support that will help you set it up without any problems. Some of the top notch features that the theme is best known for include but are not limited to BuddyPress support, bbPress support, responsive design, one click install, support for shortcodes, retina ready, search engine optimization, translation ready, clean code, icon font among others.
---
WildCommunity – BuddyPress Theme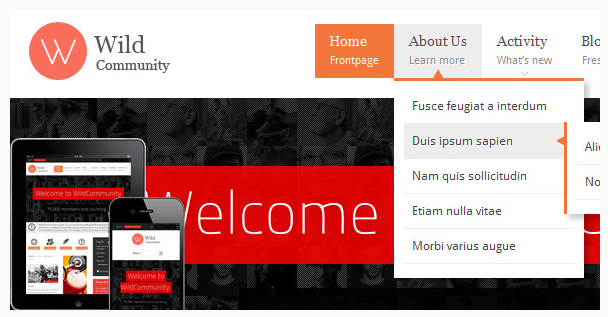 WildCommunity is a WordPress theme that comes integrated with the BuddyPress plugin allowing users to register on your website and create profiles, make connections, post content and messages, create and share within groups among others. You can use this theme to create a social network for your company, sports team, school or even a niche community. The theme also has a full integration with bbPress, prebuilt inner pages to help you with forums, groups among others, has the capability to show different content blocks for guests and members, it's integrated with a theme customization API, it's compatible with events manager, has an easy to install demo content and many more features. This is a theme that will not let you down when creating your online social forum.
---
Conclusion
These are some of the very best BuddyPress supported WordPress themes that we have today. This exclusive list might give you a hard time in choosing the one that best suits your requirements, but it is better to have a hard time choosing among the best rather than having a hard time choosing from over a hundred themes. With this, you can be assured of getting the best theme that will help you create an attractive, modern and beautiful BuddyPress website.