Building health or medical clinic WordPress sites comes with its fair share of challenges. The choice of a good medical WordPress theme is one of the daunting tasks. Medical clinic websites require high standards for both the form and functionality. The choice of the design should be meticulous to achieve the best presentation of the medical practice. WordPress presents doctors, health practitioners, hospitals, and health industry at large with the best opportunity to build a truly remarkable content management system. The choice of a WordPress theme for a medical or health professional can make or break the success of their online presence.
Fortunately, today there are dozens of high quality free and premium health and medical WordPress themes. Most of these themes are targeted for hospitals, clinic, dentists, surgery practice, veterinary doctors, and all other fields related to medicine and health. If you are searching for the best theme for a medical website, you should consider the color scheme, design, and the industry-specific features to make your work easier. Ideally, the best medical WordPress theme should have a clean design, neat typography, professional colors, customizable features, and effective contact forms; probably an appointment booking functionality.
Choosing the Best Health WordPress Theme
Whether you are a medical practitioner, health industry web designer, or you have a medical website project, we have the best collection of WordPress themes that you can use to set up your client's website in a few minutes. We have researched thoroughly and hand-picked only the best health WordPress themes with a five-star rating, clean code, eye-catching design, and health niche color schemes.
We have also considered the reputation of the theme authors and the kind of support they offer to their customers. This is important since after buying any of these medical or health themes, you will need continued updates over the years and good customer support.
We have also methodically picked all the possible themes that apply to different needs within the vast health and medicine industry. We have in our theme collection variety of themes that are suitable for general medical clinics, dental clinics, plastic surgery clinics, chiropractors, medical research, hospitals, medical imaging, private doctors, physiotherapists, and all other healthcare providers. Most of these themes can be modified and used in numerous projects since they are highly versatile and adaptable. Now let us look at each of these health themes and find out why they rank highly.
MediCenter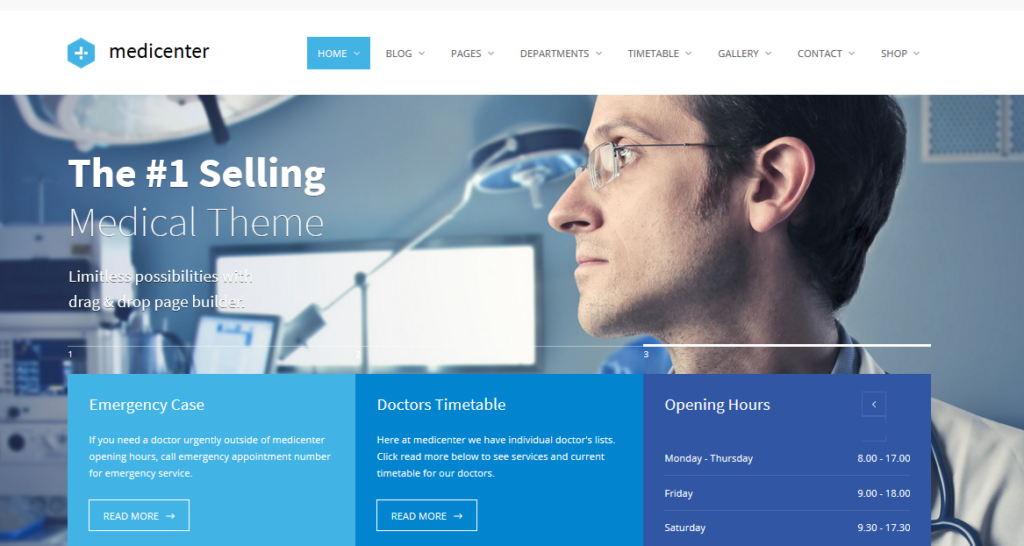 MedicalCenter is the most outstanding, refined, multipurpose WordPress theme that is dedicated to the medical and health industry for a variety of websites. It is a purely medical theme both in the design and quality of the features it has to offer. It is the number #1 top selling medical and health theme with consistent five-star customer rating. It comes with 60+ content elements that make it the most advanced medical theme based on available customization options for the visual page builder.
It has readily installable demos that include 5 home layouts, various doctors' column layouts, pricing plans, departments, and timetable layouts. Additionally, it has several gallery and pagination options that enhance the pixel perfect design for each of these layouts. MedicalCenter comes with the most desirable premium plugins and saves you money. It is a suitable theme for health care institutions, medical clinics, veterinary practice, dentists, and psychiatric practice among many other medical professions.
---
Medical & Dentist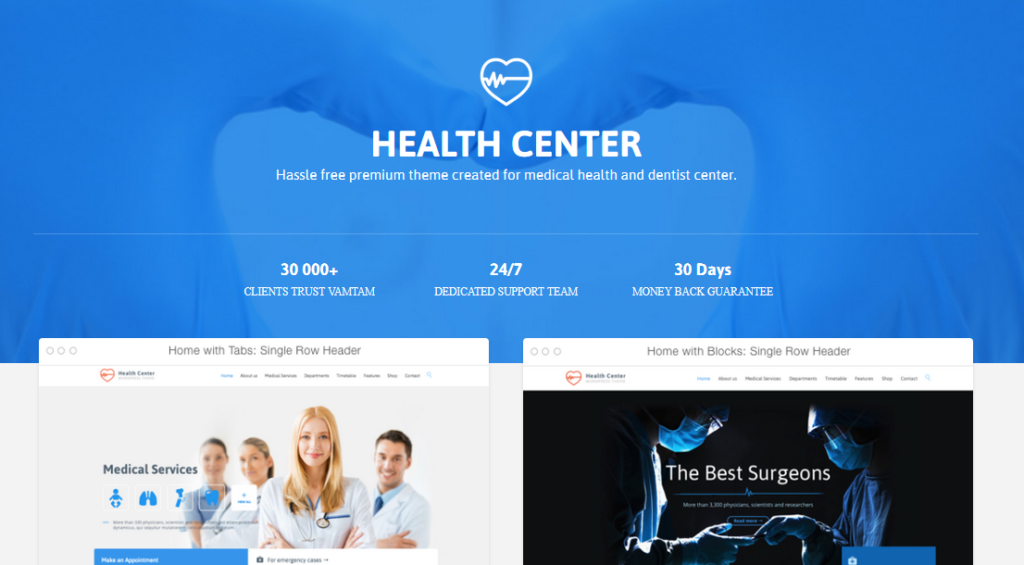 Timetable schedule is one of the most amazing features that make the Medical & Dentist WordPress theme very popular. It is a cleanly designed, powerful multipurpose WordPress theme for all medical professions. If you are looking for a WordPress theme with the best appointment or booking forms or a timetable with good department management; this is the theme that you should seriously consider for your project.
The features include; boxed & wide layout, 6 header layouts, 9 custom widgets, drag, and drop page builder, 10 portfolio layouts, events calendar, and one-click demo installer. The enormous support effort that has gone in helping customer understands how these themes works are amazing. It comes with 23 HD video tutorials and extensive written documentation. This theme is fit for all health clinics like chiropractors, veterinarians, psychiatry, dentists, surgeons, and stomatology to just mention a few.
---
Medicare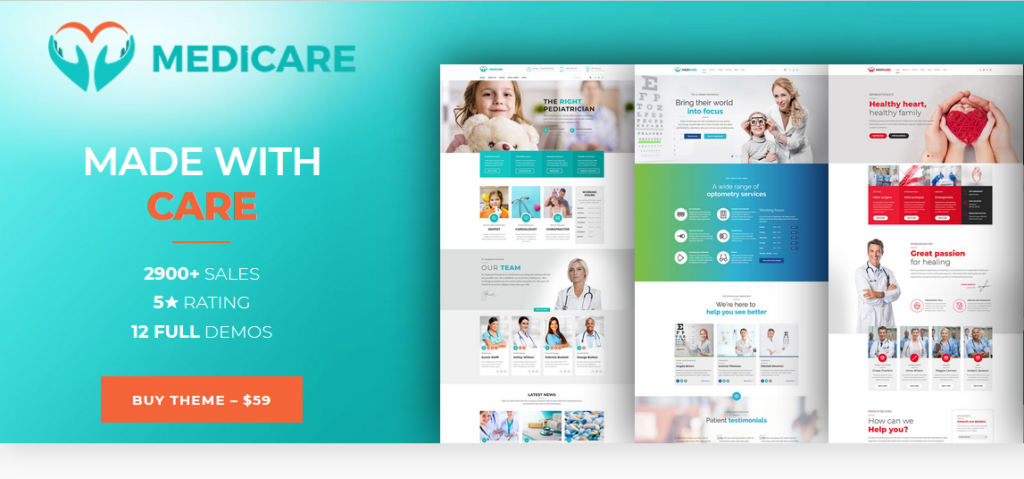 Medicare is the cleanest, high-performance WordPress medical clinic theme that comes with an excellent feature for before and after surgery. This would be the most suitable theme for plastic surgeons or all medical professions that are results oriented. It is the most generously designed theme since it comes with 12 ready to install demo that is beginner friendly. The demos are carefully designed to fit variety of medical practices that include general practitioner clinic, cardiology clinic, surgery clinic, dentists, optometrists, laboratory, general hospital, cosmetic surgery, pediatric clinic, veterinary clinic, and psychiatrists practice.
The timetable for scheduled visiting hours is another excellent feature on this theme. The before-and-after feature is perfectly designed to showcase the best work of cosmetic surgery. Online booking and WooCommerce support make this one of the best themes for e-commerce functionality for medical practitioners and health institutions.
---
MedicalPress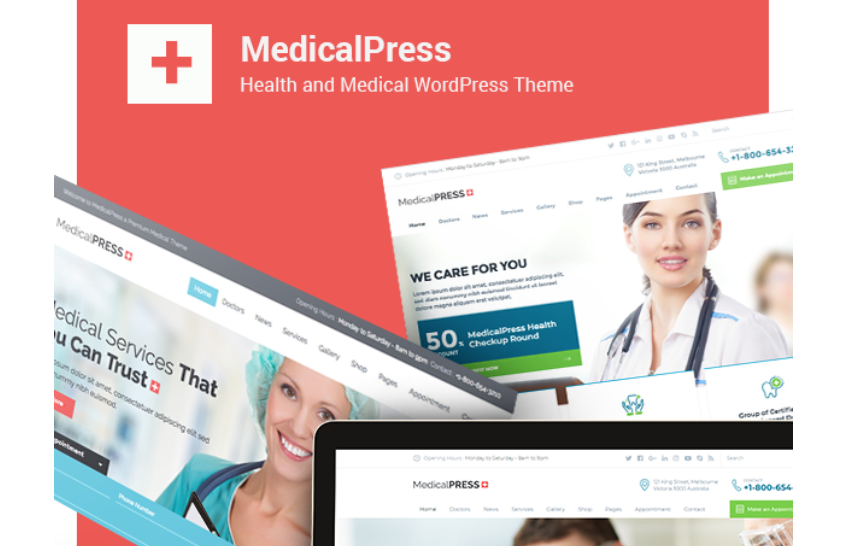 MedicalPress brings to the fore a thoughtful approach to medical and health blogging. It is one of the finest medical and health WordPress themes that are suitable for health niche blogging or research publications. It is selflessly crafted to attend to all the needs of professional medical bloggers and goes beyond to provide a remarkable platform for building medical websites of all types. It can be harnessed to build a world-class website for doctors, dentists, health clinics, surgery clinics, and general health organizations.
The appointment form layout is the most remarkable feature that you will like in the MedicalPress WordPress theme. The doctor's sections, extensive custom options, and Visual Composer are three high-quality features that make customization very easy. The doctor's templates come in different column layouts and complement the services and FAQ templates. Homepage templates are also perfectly designed to deliver the best visual presentation for all medical practices. The Visual Composer backed modules for various layouts make it easy to build a complete custom layout from scratch without writing a single line of code; this is the most amazing feature for complete WordPress beginners.
---
HealthPress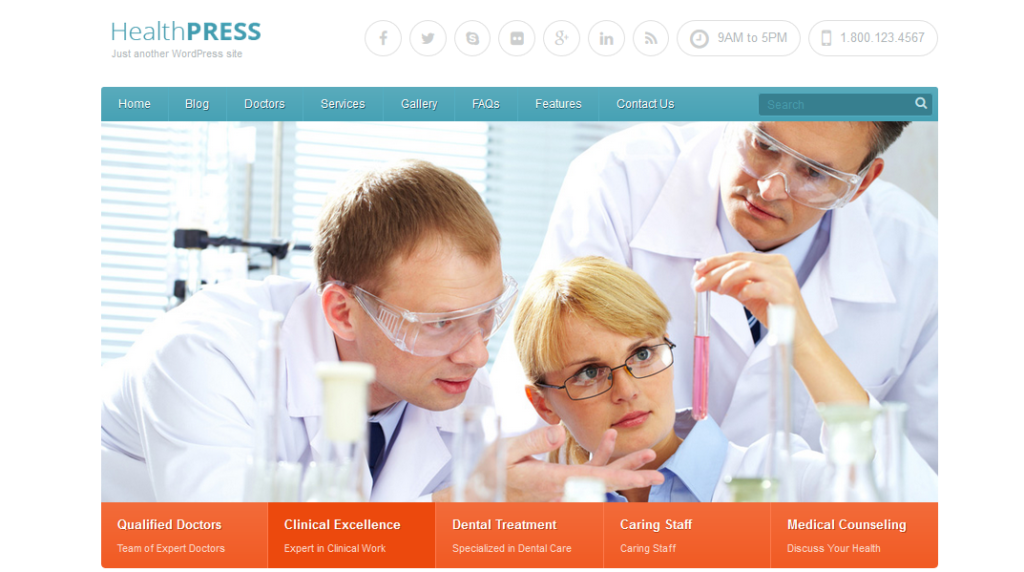 HealthPress comes across as the most reliable WordPress theme for medical research blogs as well as other medical professional sites. It is easy to use for all beginners since it comes with live customizer settings that include comprehensive options for quick and easy customization. It features the revolution slider, WPML and custom post types for slides, services, doctors, FAQ, galleries, and testimonials. The various custom widgets offer better control of the outlook and functionality of your health website.
Furthermore, the features include an excellent appointment widget that is powered by Ajax and comes with a CAPTCHA to get rid of spam. Posts thumbnail-widget is an essential widget feature for all health blogs. Importing demo by one-click and the detailed documentation make it easy to install and configure the HealthPress theme. The extensive meta boxes that are part of the custom post types make it easy for doctors to add more information about their skills and professional achievements to the frontend.
---
MediCure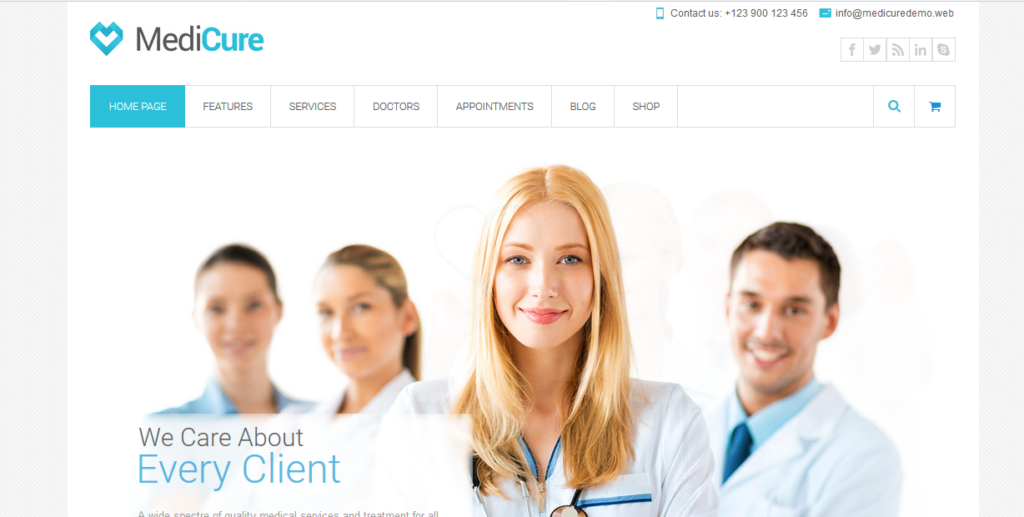 Medicure is a well-thought and cleanly designed multipurpose medicine and health WordPress theme that comes with excellent custom post types for a variety of health websites needs. It has one of the largest collections of shortcodes that are useful when customizing this theme to suit your preference. The custom form builder is an additional useful tool that lets you build custom forms for different client's needs. With this form builder, you can separate the different inquiries into diverse forms for improved efficiency and enhanced customer support.
The general features of the MediCure theme include; custom page backgrounds, unlimited menu colors, drag-and-drop composer, 2 premium sliders, custom widgets, custom admin panel, and 23 powerful custom shortcodes. MediCure is ideal for all medical websites which includes; homeopathic clinics, medical institutes, medical bloggers, medical researchers, health blogs, large hospitals, non-governmental medical organizations and much more.
---
Medicom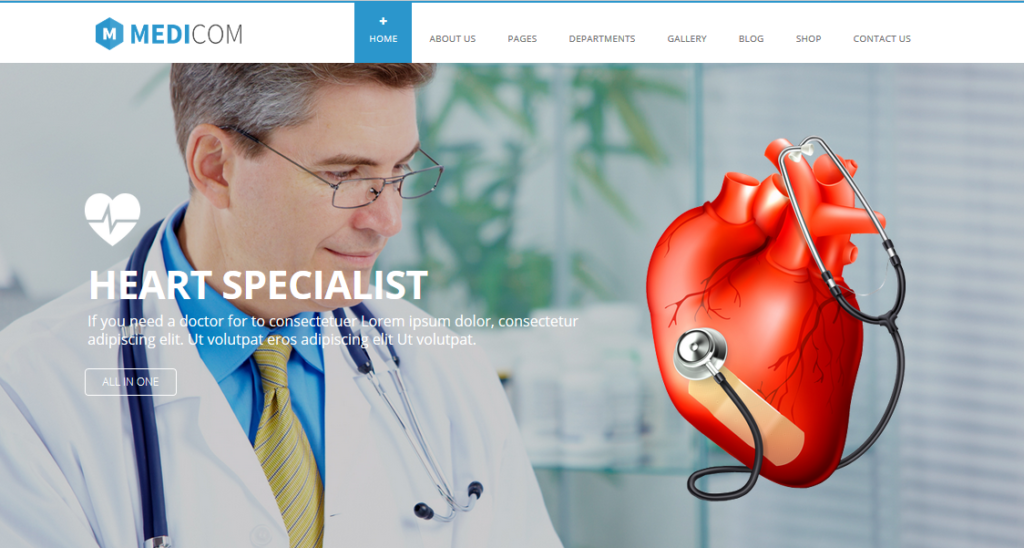 Medicom offers users the quickest and easiest way to build a high-end, professional medical website within few minutes. It is a spectacular theme that comes with features that are a guarantee to make your health website a great success. It includes 4 homepage layouts that are purposely designed for various medical professions with excellent layouts and top quality features. Its clean, responsive, retina-ready layout gives an impression of a high-standard health website.
The other features include 8 color variations, awesome font icons, wide & boxed layouts, parallax scrolling, Google Maps support, and clean code that has been extensively reviewed and validated with all the best standards. Medicom is the theme of choice for the medical professional who loves clean, minimalistic, retina-ready outlook. It has the best page load speed and optimum SEO efficiency. Medico can be adapted to fit a variety of medical website projects like all clinic websites, hospitals, private practitioners and general medical or health websites.
---
OneLife Medical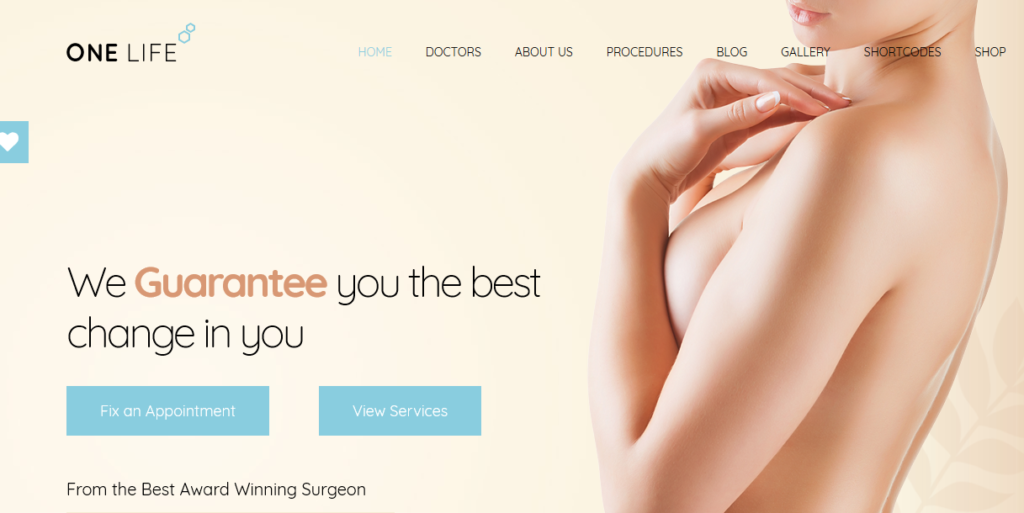 Onelife Medical is not just another health WordPress theme but the most reputable medical theme for plastic surgeons or cosmetic surgery clinics. It is completely clutter-free and comes with 4 unique and amazing homepage layouts. These layouts offer this theme a unique selling point since they bring out the best features of this amazing medical WordPress theme.
This theme is built with the best premium WordPress plugins that include; layer slider, revolution slider, and Visual Composer. Additionally, it has 10 pre-defined dual color skins, 4 types for the blog, 3 types for grids, 5 events listing styles, 9 header styles, 13 widget styled doctor's details page, procedure details page, drag-and-drop page builder, working appointment forms, and tons of useful custom shortcodes. It is extremely easy to build a mega menu on this theme, as well as add maps for the clinic location.
---
Medical Clinic
As the name suggests, this is a full medical oriented WordPress theme that is suitable for all types of health clinics. It is loaded with easy to customize features that include different blog styles, portfolio layouts, section options, 99+ shortcodes, content templates, animations, form builder, Mega Menu, premium sliders, one page, custom post types, drag-n drop page builder, and different header styles. It is fully responsive and retina ready and it's highly adaptable for different projects.
The design is clean, minimal and highly professional and can be good for creating a memorable online experience for all medical practices. This theme is good for small clinics, pediatric practice, dental, gynecologists, general physiotherapist clinics, ambulatory and family doctors. The most conspicuous features are WooCommerce support, custom WordPress admin, medical color scheme, flexible layout option, king-size shortcode pack, unlimited color solutions, and custom post types for all services and doctors.
---
SoulMedic Health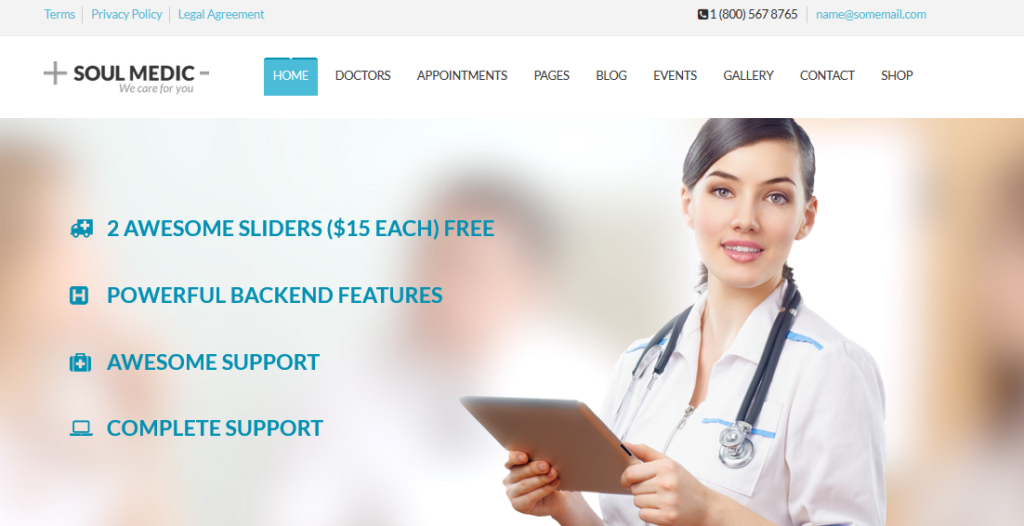 SoulMedic health is an eye-catching medical WordPress theme that comes with cutting-edge features. This is a multi-niche health WordPress theme suitable for treatment centers, general medical practice, veterinary practice, opticians, dermatologists, cardiologists, urologist, cosmetic surgery, hospitals, and dentists. The soulmedic theme is minimalistic in design and comes with modern features that are required in every premium health or medical theme. It has 25+ different page layouts that are designed to cater to different needs. These page layouts include doctors, services, gallery, appointments, schedules, events, contact, blogs, and departments.
This theme is cleanly coded for high efficiency and comes with an amazing page builder designed to make creating custom pages an easy task. The other key features of the SoulMedic theme include 100% translation support, prominent events calendar, WooCommerce support, theme customizer, mega menu, and two premium image sliders. There are also 20 predefined color skins that have a user-friendly style switcher to make general color customization easy and fast.
---
Clinico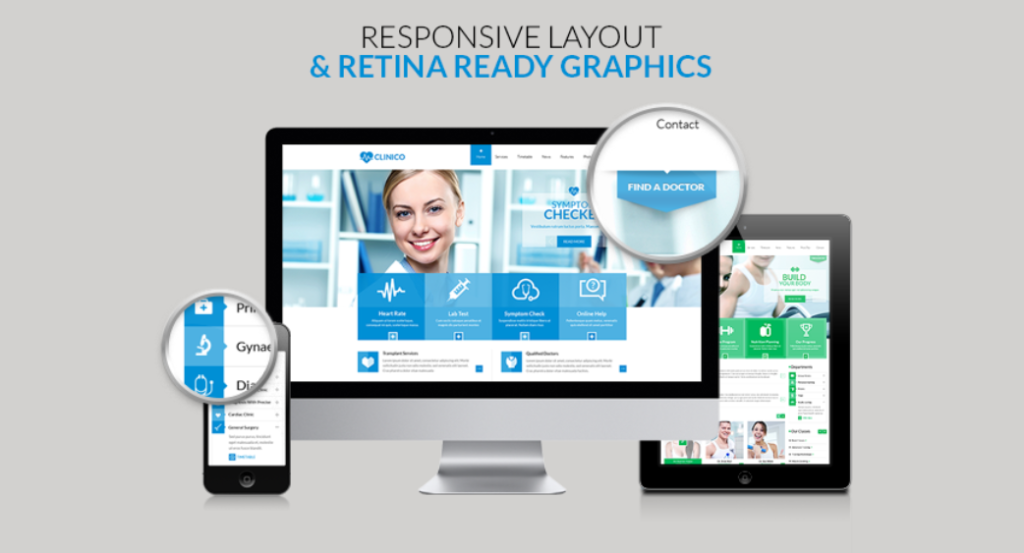 Clinico comes with all essential features needed when creating a professional health website. You can use this theme for all types of medical or health web development projects. Clinico is a very powerful theme with 6 predefined color schemes, a variety of custom widgets, several page layouts, content elements, boxed & wide layout, custom drag-and-drop visual editors, theme options panel, sidebar generator, events calendar, and color management features.
The theme documentation is comprehensive and it comes packaged with XML demo content to make installation and initial customization stress-free. Clinico is coded with the highest SEO standards; the code has been validated and extensively tested for cross-browser compatibility as well as scripts performance. Clinico is a perfect theme for a wide range of health websites and can be used on more than one project since it has unlimited customization options. Ideally, you can use this theme for doctor's websites, hospitals, research institutions, and homeopathic medicine websites.
---
HealthFlex Doctor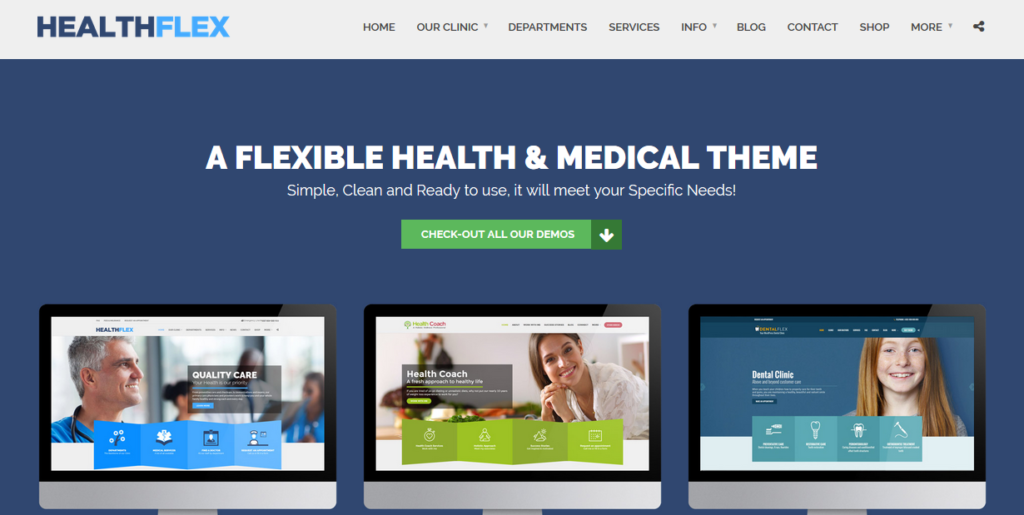 HeathFlex Doctor is a largely diverse medical and health WordPress theme that is perfectly suitable for huge health websites. It is versatile, multipurpose and comes with tons of resourceful features that are ideal for all medicine websites. It is a perfect fit for various health practitioners that include; doctors' office, health clinic, health coaches, general physicians, dentists, dental clinics, veterinarians, hospitals, health clinics, pediatricians, gynecologists, health conferences, health care specialists, beauty specialists, dietitians, personal trainers, health bloggers and yoga therapists.
The outstanding features in this theme include niche specific demos like a general clinic, yoga studio, pediatrician, dental clinic and medical conference. The theme options are powered by the incredibly popular Redux framework and Visual Composer page builder that has been used to enhance customization of various page layouts. This theme offers flawless integration with the Google Maps and Flickr APIs with high flexibility.
---
Medical Plus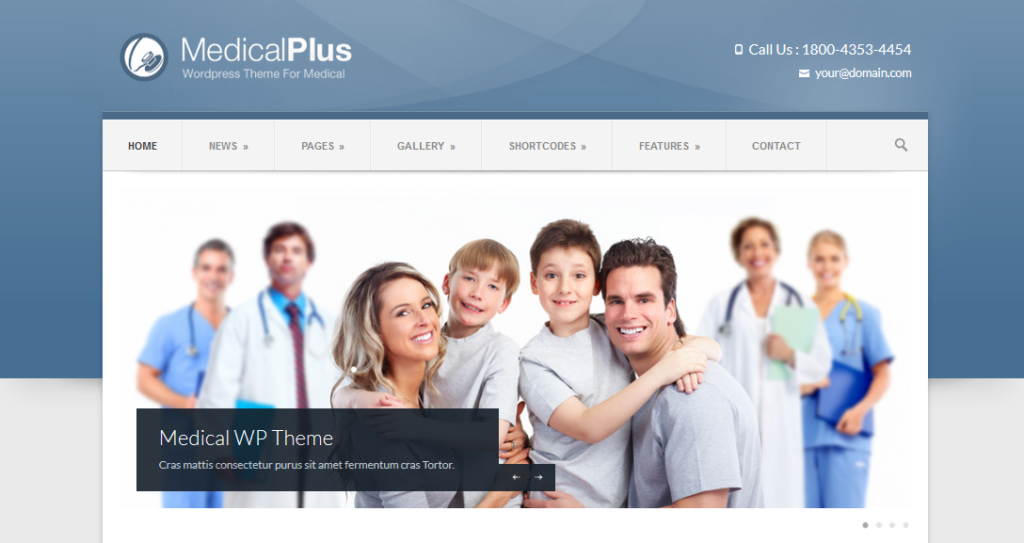 Medical Plus is a feature-rich health WordPress theme that is completely responsive and suitable for an array of health websites. It is a simple yet powerful health theme that is loaded with powerful features for all websites. It comes with a live color switcher, page builder, advanced theme options panel, unlimited color options, 450+ fonts, font 'uploader', 6 footer layouts, 4 blog styles, drag and drop page and slider manager, inbuilt translator, custom shortcodes and 5 predefined background patterns. It is highly optimized for performance, SEO and page load speed.
Medical Plus offers a highly adaptable design that looks amazing on iPhones, tablets and all android phones. It is a good theme for general uses and for specific medical niches like public hospitals, research clinics, private medical practice, surgery clinics, online consultations, health organizations, non-governmental health organizations and much more.
---
Medina Medical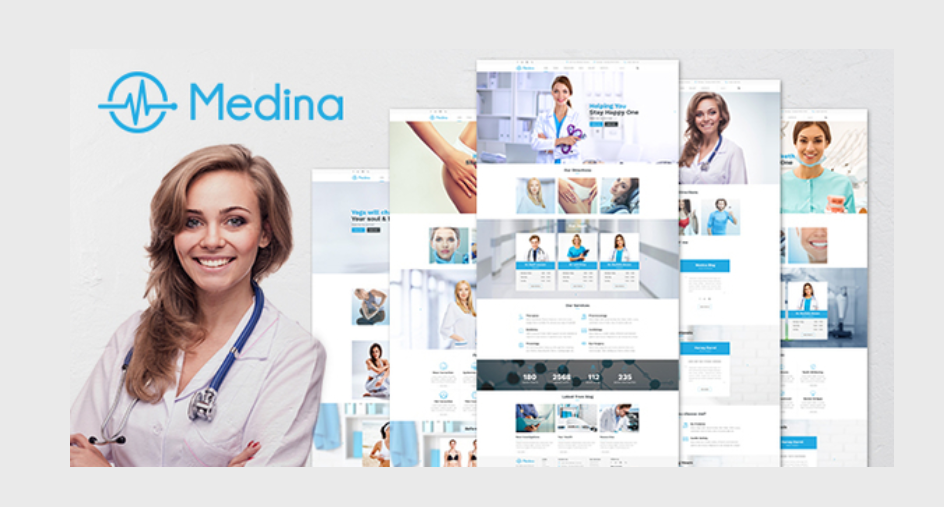 Medina Medical is reliable, efficient and multipurpose health WordPress theme that is designed to impress. Its choice of color is professional and the layouts are designed to bring out the best features and deliver an impeccable user experience on all screen sizes. It is loaded with 6 pre-made homepage demos that include private clinic, dental clinic, personal doctor, plastic surgery, yoga, and e-commerce. It is a perfectly adaptable health WordPress theme that is increasingly becoming very popular in the marketplace.
The most interesting features in this theme include; full-color customization panel, minimal design, one-click demo importer, 600+ Google fonts, high page load speed, page builder and translation support. These features make it a reliable theme for use in multiple projects across all medical professions. Its rock-solid SEO performance is a valuable asset when building a medical site in highly competitive niches like chiropractic and plastic surgery.
---
Apicona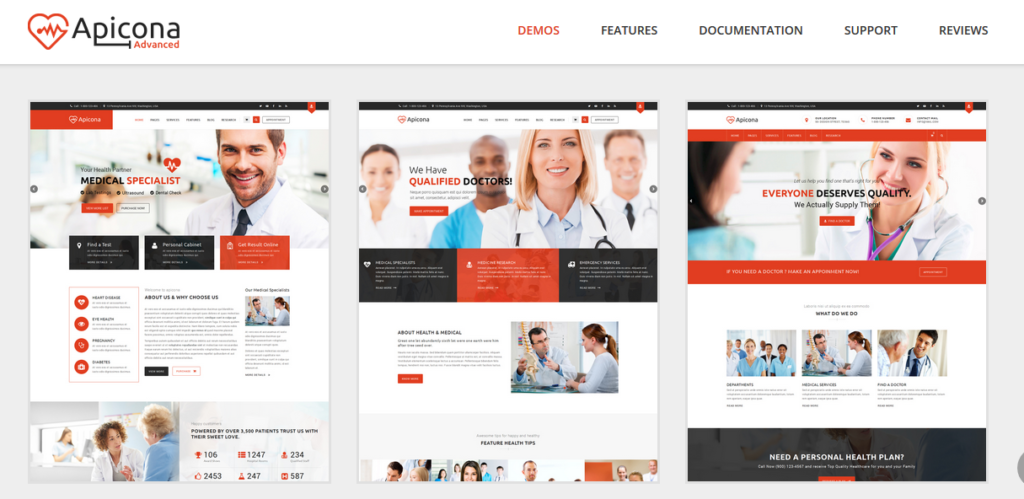 Apicona is the first of its kind medical WordPress theme that is reliably useful for building all hospital and large private practice clinic websites. It is impressive in both the excellent performance and the eye-catching design that makes it stand out in the crowded medical templates marketplace. The choice of color schemes renders it highly useful for hospitals and large health organization websites. Its smooth and flawless transitions leave an everlasting impression. It is generously packaged with 12+ header styles, unlimited color options, visual page builder, premium slider, one-click demo installer, 1000+ icons and theme customizer.
Apicona is ideally designed to deliver a remarkable user experience and also make it easy for website developers to quickly build robust health websites within a few minutes. Its 15+page loader animations, 4 layout styles, and 9-super smooth page effects make it an outstanding health WordPress theme. Other features include unlimited layout possibilities, WooCommerce support, 100+ theme options, unlimited background colors, color picker, mega menu, custom widget, smooth social media integration and support for custom CSS and JS code.
---
Medical Doctor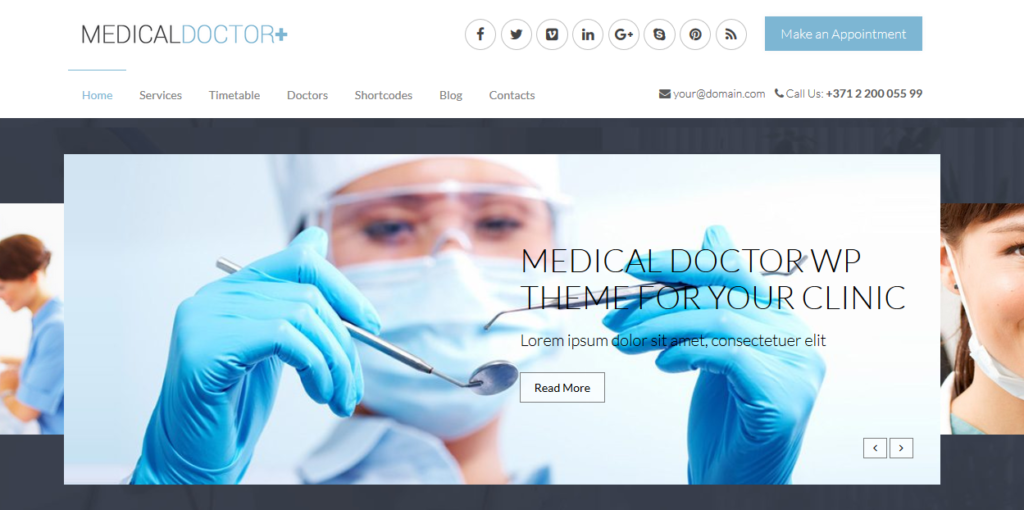 Medical Doctor is an exceptional medical WordPress theme for both large and small medical practitioners. It is fully responsive and comes with unlimited color options that make it a good starter theme for a wide range of medical website projects. It is loaded with an intuitive frontend drag and drop builder that is powered by Visual Composer.
It is extraordinarily easy to use a theme that is highly recommended for WordPress users of all skill levels. The key features include flexible page layouts, 4 header types, 6 post formats, 2 post slider sections, 6 portfolio grids, unlimited page sections, 600+ Google fonts, advanced page builder, extensive admin panel, and unlimited sidebars. It is a good theme for medical doctors, private clinics, health writers, dentists, surgeons, and hospitals at large.
---
Care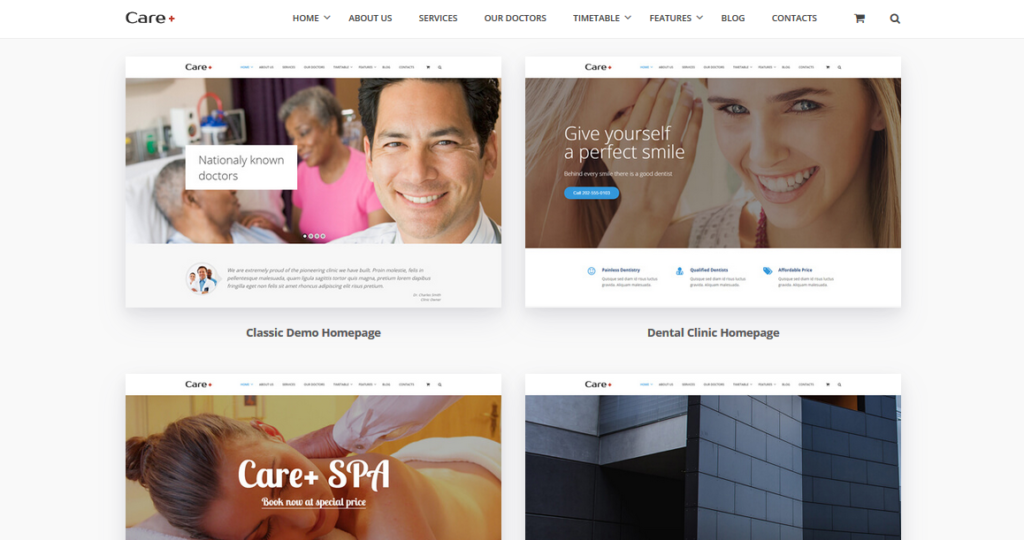 Care is a professionally designed theme for all health caregivers that comes with an elegant approach to design, and powerful features to build the best healthcare websites. Care comes with abundant features for creating a professional medical website within the shortest time. It is clean and 100% responsive with high-resolution retina display on all mobile browsers. It features a scheduled timetable manager that makes it easy for doctors to plan consultation and visiting hours.
Its demos are easy to set up with the one-click installer and the Visual Composer drag and drop makes customization flawless. The powerful timetable builder is an excellent feature that is not common in most average health or medical WordPress themes. The pre-styled elements and advanced customization options make it easy for WordPress beginners to build powerful health websites without coding. The customer support is amazing and the lifetime updates are important for the secure future of your medical website.
---
Dent-All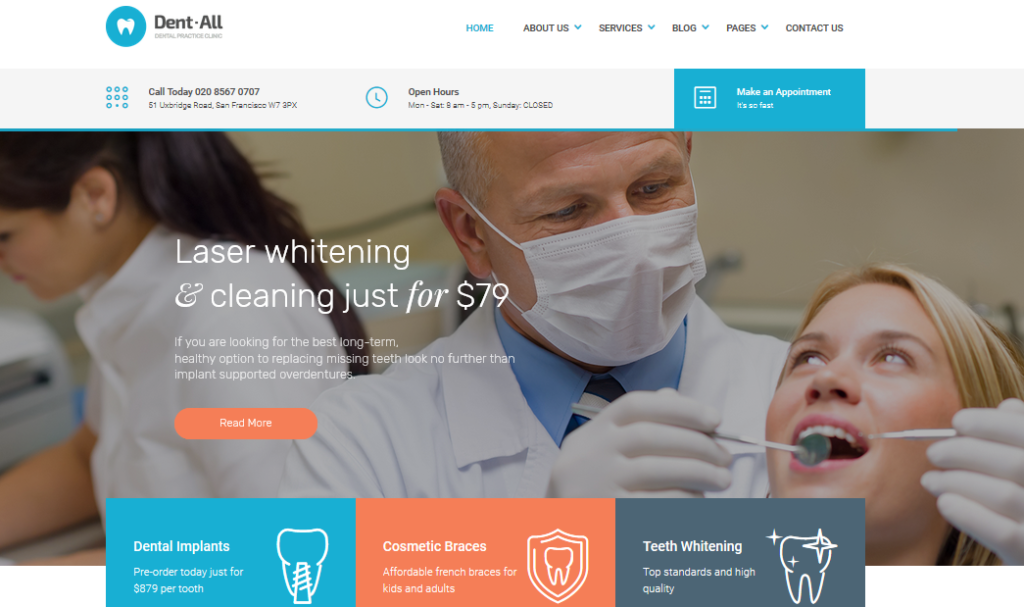 Dent-All is an overall powerful and useful WordPress theme that is focused on all the needs of a professional dental practice website. It has a carefully designed outlook and an excellent choice of colors and typography. If you are looking for the overall best WordPress theme for dental practitioners, Dent-All should be your first consideration.
It can also be used for other medical websites like a general health clinic, private practice websites, and hospital or healthcare provider's sites. Some of the most interesting features on this theme include appointment booking, Visual Composer page builder, pricing module, custom services module, doctor profiles, parallax and video backgrounds, 800+ Google fonts and custom SVG icons. Dent-All comes with four amazing color schemes, online appointment scheduling system, 2 services listing layouts, Redux framework for theme options, and one-click demo importer. The premium plugins used include Visual Composer and Revolution Slider.
---
Wellspring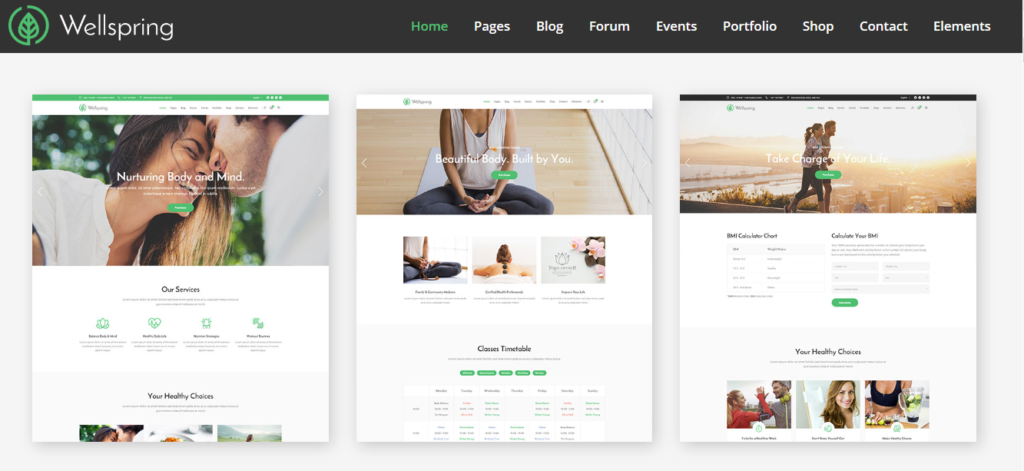 Wellspring is a cutting-edge all-purpose medical and health WordPress theme that comes with the class that every professional health community site requires. It is purely designed as a clean WordPress theme that is perfect for professional health and fitness bloggers who want something esoteric. Wellspring theme is ideal for promoting a healthy lifestyle and blogging about health or related topics like nutrition and dietetics.
It comes with 'timetable for WP' a powerful and useful plugin for managing schedules and events. It supports bbPress that helps in building a health community on your site. Other incredible features include; Body Mass Index calculator that is inbuilt, attractive customizable layouts, events calendar, and 12 amazing homepage layouts that are ready to import using the one-click demo installer. This theme features a large collection of neatly designed inner pages and custom shortcodes for quick and efficient customization.
---
iMedica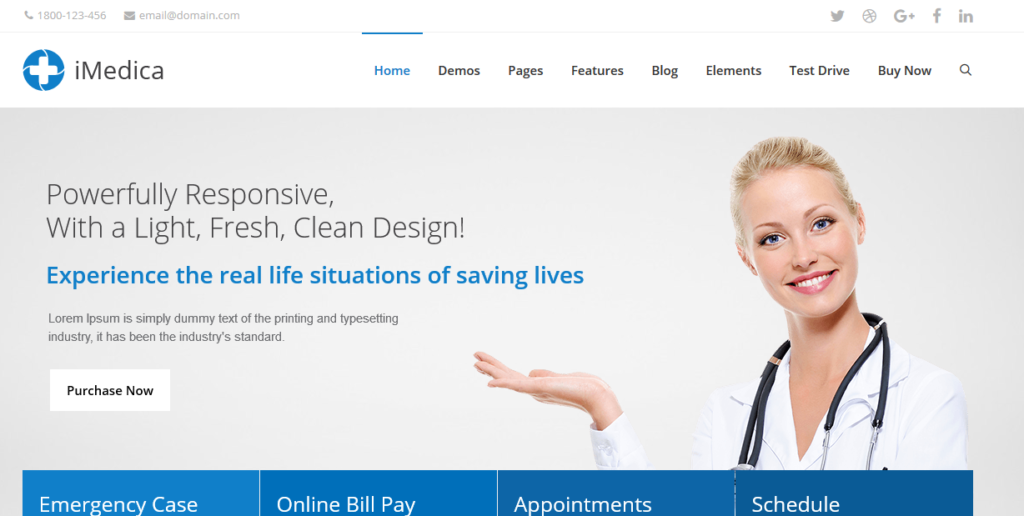 Imedica is a polished professional medical WordPress theme that is designed to fit in all medical niches. It is developed with careful consideration to the needs of the end-user and comes with tons of useful and customizable features. The 9 homepage demos make it one of the most versatile health WordPress themes. The 9 niche-specific demos include dental care, pediatrics, medical software, senior home care, science laboratory, veterinary clinic, cardiology, and chiropractic. This niche centered demos, make it easier to set up a professional medical website within minutes. Generally, there are more than 20 premade homepages that give you a good collection that you can use in several medical website projects.
---
MentalPress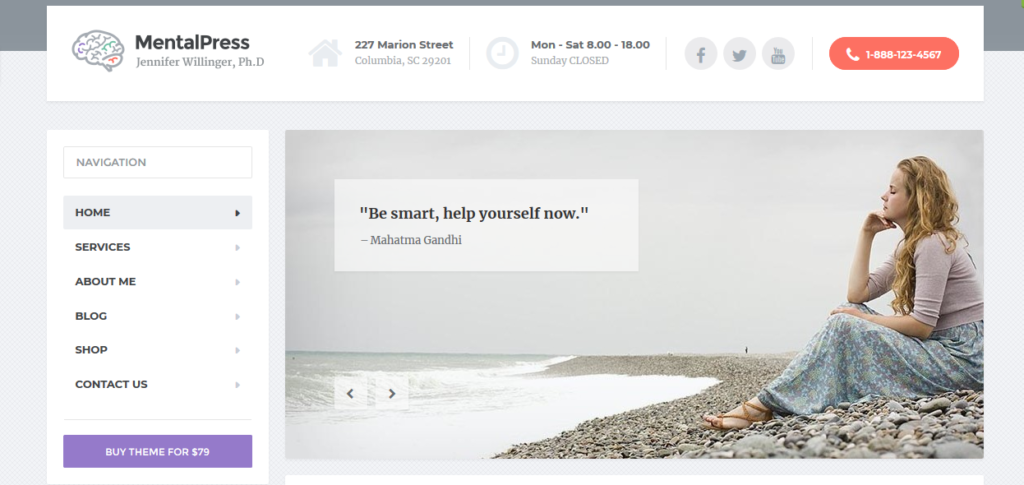 MentalPress is a single-niche focused WordPress theme but can be extensively used in other health niches. It is a professional grade mental health WordPress theme that comes with a collection of useful features for building the best mental health WordPress site. It is focused is on psychology, counseling, psychiatry and behavioral therapists. Its key features include the intuitive page builder, one-click demo installer, real-time WP customizer, and a visual page builder.
It is the most ideal theme for mental health practitioners, psychology bloggers, health magazines, medical online journals, mental health online communities, and general health awareness programs. There are lots of features that can be extended to make MentalPress a useful theme in a variety of other medical WordPress sites.
---
NaturaLife
NaturalLife is a simple minimalistic health WordPress theme that is focused on organic lifestyles and preventive medicine. It is the best WordPress theme for alternative medicine as well as healthy organic online shop. Its clean design that users find attractive guarantees the best conversions for all organic health products. It comes with a variety of homepages that can be set up easily and used in a variety of organic health websites.
Its mobile design outlook is spectacular and the layouts come with smooth transitions that make it the optimum health mobile theme. It offers a complete health website development solution since it is bundled with high-quality premium plugins like Elementor, Revolution Slider, and Ninja Forms. This is a perfect choice for a health blogging site, health magazine, alternative therapy websites, and online organic health products shops.
---
Health Care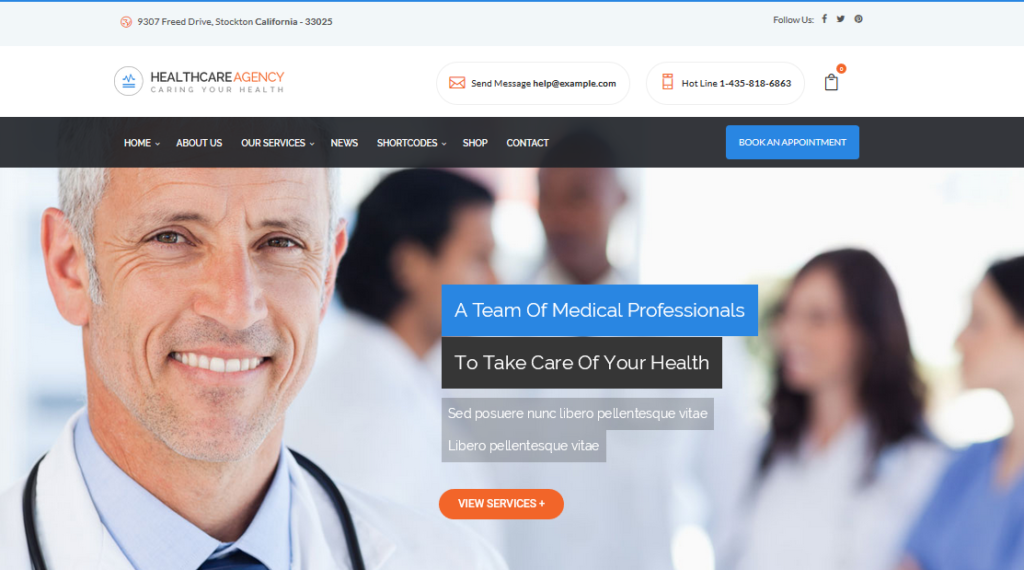 Health Care is a clean, readily usable multipurpose health WordPress theme that has an advanced department management system. This feature makes it an ideal theme for a hospital or large private practice clinics that have different departments. It is highly adaptable and can be used in other different health websites like medical centers, dentists, doctors, health care centers for senior citizens. The useful features include the Visual Composer page builder, advanced department management, revolution slider, and one-click demo importer.
---
Yoga Fit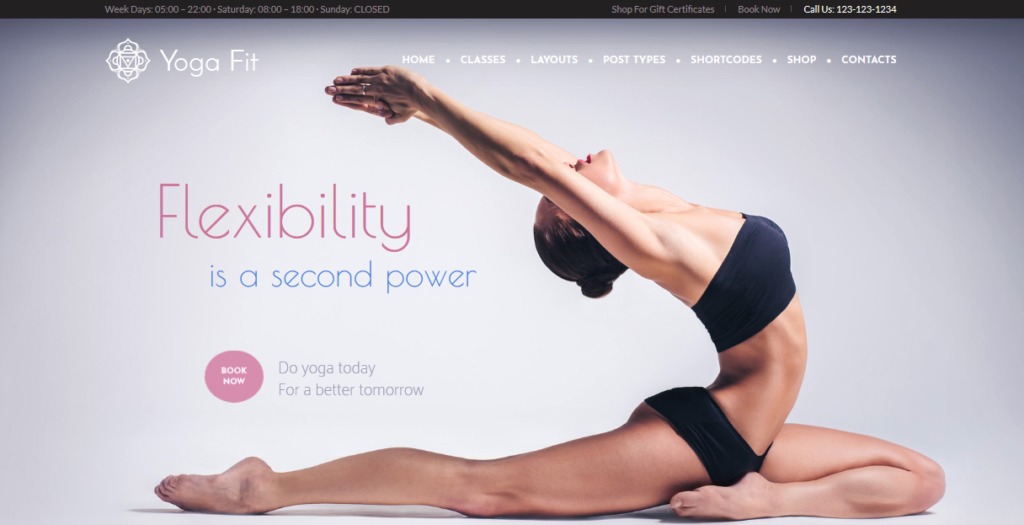 Yoga Fit is a health and fitness WordPress theme that is designed for Yoga enthusiasts and Yoga health practitioners. It is suitable for Yoga studio sites, health and fitness programs, medication, and dancing classes. This is ideally a preventive medicine WordPress theme that has a collection of highly customizable features that make it easy for you to set up any of these kinds of sites on the fly.
The notable features include a timetable for Yoga classes, one-page support, 99+shortcodes, premium sliders, several page options, animations, color management, several custom post types, custom widgets, custom form builder, Google fonts, unlimited menu colors, and drag-n-drop content composer. This is the most suitable theme for Yoga, sports medicine, Pilates, health programs, karma healing, and body flex.
---
Dentalia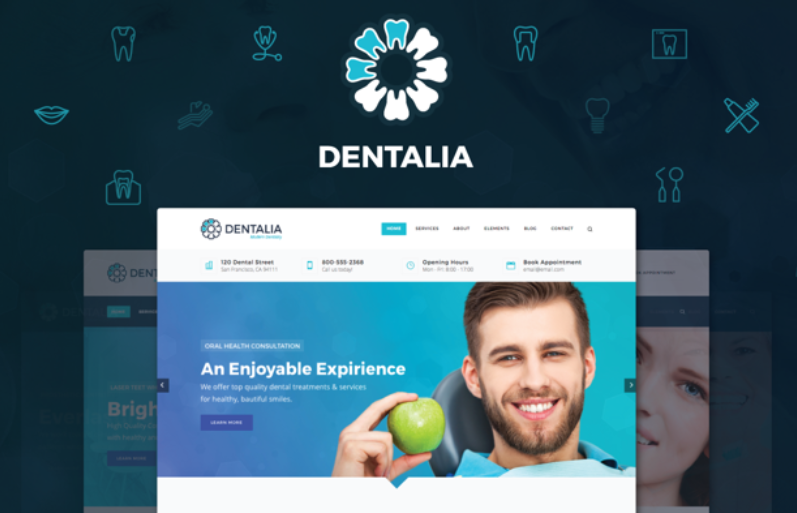 Dentalia is a highly customizable modern dental and medical WordPress theme that is suitable for all medical and dental practices. It comes with excellent features like the easy to use & fast page builder, 25+ custom widgets, team member custom post types, working hours widgets, team carousel, multiple icon packs, 120+ dental icons, parallax backgrounds, visual page builder, header widgets area, 2 blog layouts and featured pages widgets. Besides its use in the dental niche, this theme is suitable for all health care providers, medical services, medical companies, vets, and medical doctors in private practice
---
Conclusion
As we sum up this collection of the best WordPress themes for medical and health practitioners, it is paramount you consider using any of these themes in this collection since they offer limitless customization possibilities. Secondly, the themes outlined here come with beginner-friendly features like the one-click demo installer, powerful customization features, and medical industry color schemes that blend perfectly with the needs of all health websites. If you are looking for a theme that stands out and saves you a great deal of time when creating a health website; you should consider checking out the themes listed in this collection. Ultimately, this is the only medical and health WordPress theme collection you will ever need for all your projects.