Search Engine Optimization (SEO) is the science and art of adding enhancements to a website for the sole purpose of improving rankings on search engines. It gives an easy time to search engines such as Google, Yahoo and Bing in finding a website. Search Engine Optimization is very important for websites since with it, most of the websites' traffic comes from natural search or from search engines. I will give you a good example, when you are doing a search on a search engine such as Google, how often do you click on the results that come on the second and subsequent pages? This simply shows you that getting your website ranking among the top on search engines is very important.
So how do you optimize your website for higher rankings on search engines? First of all, you need to get note of the keywords that you want to optimize for. These are mainly the services and products that you are offering. If you find yourself in a competitive field, you might find it a little bit difficult to get the exact terms to use as keywords. This is too much work for a person who has no skills in web development or in search engine optimization. What if I told you that you can find WordPress themes that have already been optimized for SEO? In this article, we are going to discuss some of the best SEO optimized premium WordPress themes. With these themes, you will not need to worry about SEO anymore.
---
SEO WP: WordPress Theme for Digital Marketing Agency, Social Media & SEO Company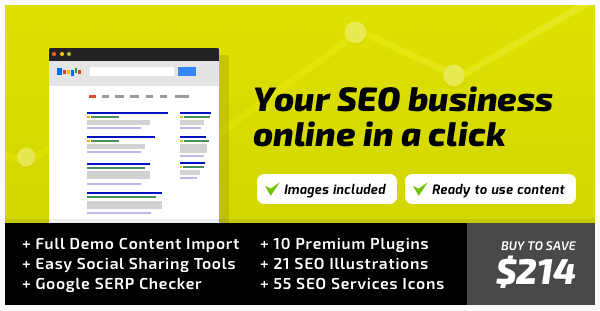 SEO WP is a premium WordPress theme that has been designed with a very high degree of flexibility with SEO optimization given the top focus. This theme is suitable for people looking at running businesses such as digital marketing agencies, SEO companies, social media sites and other related businesses. This theme comes with various page designs, a range of footer layouts and various header styles. It has been designed with everyone in mind, such that you can easily use it even if you did not have any coding skills. You can easily personalize the theme in real time while at the same time viewing the changes as they are being implemented. Something else that makes this theme stand out is the premium plugins such as live page builder plugin that it comes with. You can easily use this plugin to modify any aspect of the theme by simply moving things around while dragging and dropping them. The latest release has integrated web development and design, PPC management and up to eight more illustrations for SEO services. This is a theme that would not let you down on SEO optimization, as well as having an attractive website.
---
Massive Dynamic – WordPress Website Builder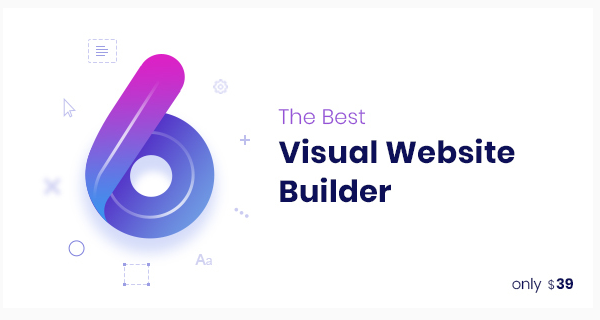 Massive Dynamic is a responsive WordPress creative website builder, one of the best we have today. It comes with an inherently SEO enhanced codebase which provides a firm foundation for any person who wants to build a website that is optimized for SEO. It is capable of handling a wide range of needs across a huge coverage of different types of websites and web applications. It has a powerful real-time website builder that can be used by any person, as well as a combination of shortcode configuration, settings customization and layout design into a single and beautiful interface. This makes it even easier to use it to build and design an attractive website. Massive Dynamic also comes with more than seventy shortcodes as well as templates that can be easily customized to meet all your requirements. If you are looking to sell products online, then you can use Massive Dynamic to get an online store from its innovative shopping layouts that are combined with its amazing SEO performance. Any SEO friendly website that you would like to have, Massive Dynamic will get it for you.
---
Marketing Pro – SEO WordPress Theme for SEO, Agency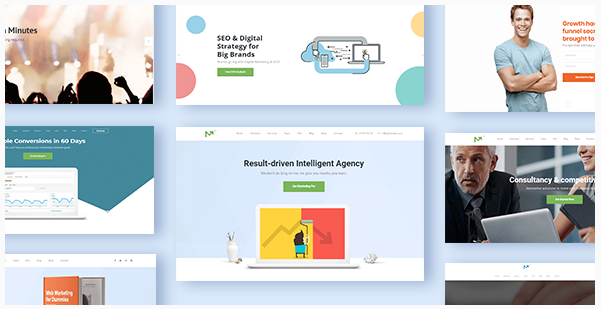 This is a fully responsive and powerful WordPress multipurpose theme that has been optimized for SEO. It is a perfect theme that can help you develop a business minded and modern website within a very short period of time, especially due to its up to nine different templates that are ready made and the flexible widgets that it comes with. The visual composer with this theme allows you to customize and style all your layouts with a lot of ease and speed without even a single skill in coding. It also comes with a powerful convert plug popup that allows you to capture amounts of new users easily, making it easy for you to market your products and services to them. This theme is also a sharp SEO framework that will make sure that your website gets a decent ranking on search engine results. You will not easily get a theme that will get your content top rankings as this theme will. Marketing Pro is everything you need to make it in the competitive world of SEO marketing.
---
SEO Engine – SEO & Digital Marketing Agency WordPress Theme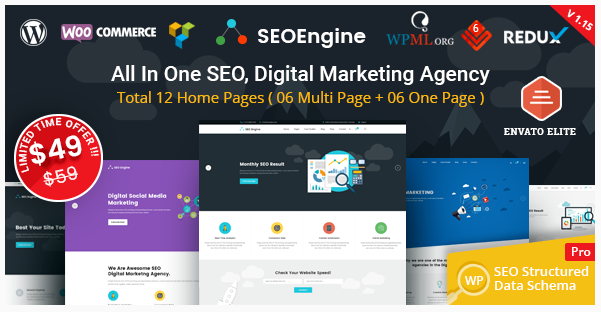 Are you looking for a digital marketing WordPress theme that has been optimized for SEO? Look no further. SEO engine is the best that you will find in the market. It comes with up to twelve homepages that have been fully designed with demo content for you to choose from with an amazing admin panel that is also optimized for SEO. The theme also features an awesome layout with two portfolio pages and more than five pre-set headers with several variations for the portfolio pages. We can not forget the sliders and grids, the live customizer and the unlimited color variations that this theme comes with. The theme has been designed based on the Redux framework which it uses to provide customization options. Page building is provided by the visual composer. There are various typography options provided by Font Awesome Icons and Google Web Fonts. The theme is also fully responsive and will display attractive pages on different devices no matter their screen size. You will not go wrong with this theme, from all these features and the lifetime updates, documentation and a premium support team.
---
Soledad – Multi-Concept Blog/Magazine/News AMP WordPress Theme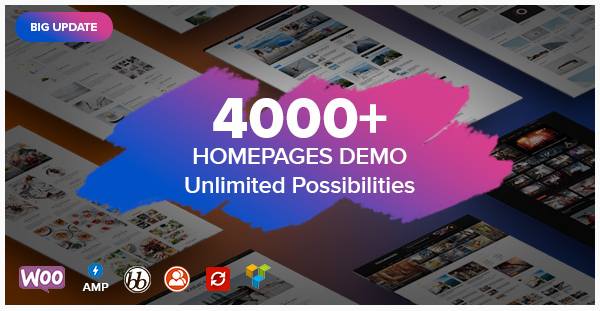 Soledad is a modern, visually cohesive and responsive WordPress theme designed for blog and magazine websites and optimized for SEO. It is designed with blogs and magazines in mind since these are websites that require a lot of traffic to sell news and articles to its audience and to also monetize from among other things adverts. Starting a blog or a magazine site does not mean that you should have any knowledge in programming, and therefore this theme has been designed for people like you. It has been built around the live customizer tool that allows you to easily build and design your own pages within a short time through the visual process that also gives you a chance to see the changes as you make them. It also comes with more than two hundred and fifty options for you to customize every elements and aspect of your website, allowing you to get exactly what you want. It gives priority to SEO customization which is already set at the codebase allowing search engines to easily find your content, metadata and keywords. This is one theme that will allow you to get a lot of traffic to your website.
---
Jevelin Multi-Purpose Premium Responsive WordPress Theme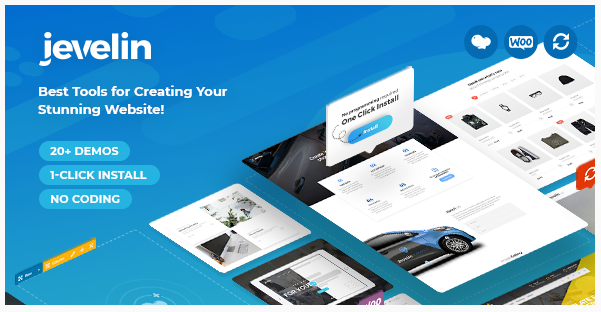 Jevelin is a business friendly, engaging and fully responsive WordPress multipurpose theme optimized for SEO. The theme features advanced and essential commercial capabilities that are powered by the WooCommerce plugin that comes with the theme. This makes the theme a natural sales shop that will easily market your products or those of your affiliates. This is even made much more easier with its search engine optimization that will make sure that your website, its content and products have a higher ranking than those of your competitors on search engines. The SEO enhancements are implemented from the codebase, which adds to making any website designed from this them rank very high on search engines. This basically increases your traffic, maximizing your revenue generated from all types of sales that you make from the website. If you try this theme today, you will definately be reaping from SEO enhancements from the word go.
---
TopSEO – SEO, Digital Marketing WordPress Theme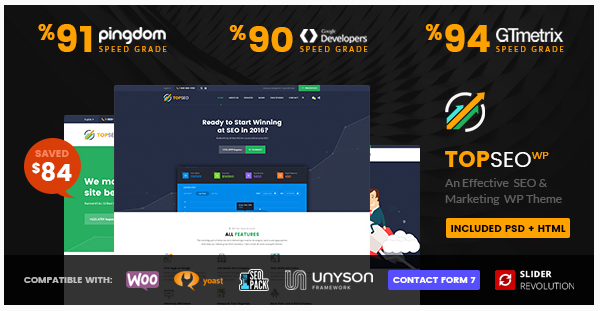 TopSEO is a modern SEO optimized and fully responsive WordPress theme that has been designed with the fast creation of professional, attractive and converting websites in mind. The conversion is brought about by the speciality in search engine ranking, ad revenue increase and traffic generation that is brought about by the SEO optimization of the theme. The theme comes with an awesome visual interface that makes branding and customizing your website a very easy task that requires absolutely no knowledge in coding, and requires just a few clicks coupled with dragging and dropping of elements on the screen to come up with the intended design. The theme is also built on the latest technologies in web design employing an advanced HTML5 codebase and dynamic CSS3 empowering the website owner to use an array of options and multimedia features as well as modern animations and Bootstrap powered mobile friendliness.
---
Brixton Blog – A Responsive WordPress Blog Theme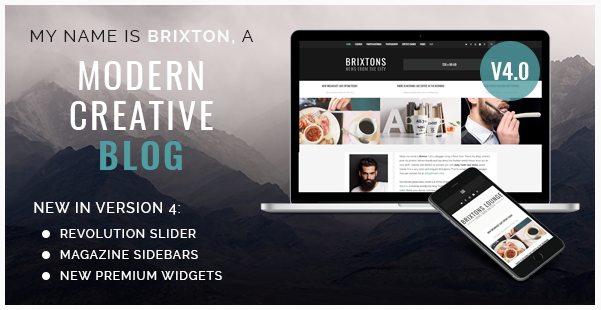 Brixton is one of the modern WordPress blog themes that have been optimized for SEO and can be used for different things. It has been developed with a special focus on its behavior, look and feel. It has also been designed to provide not only an efficient and functional blogging platform, but also a fully customizable and professional platform that can be used to effectively represent what one needs it for. The theme comes with a modern dynamic layout with things such as masonry layouts and adaptable grids with filtering powered by AJAX and a category aggregation that happens live. This created a tiled arrangement making a brilliant use of the white spaces on the website making sure that nothing is left unexpressed. The theme allows you to have either a boxed or a full screen layout both with a clean visuals and a very clear management of multimedia content. It has engaging sliders, bewildering vistas and transfixing transitions which makes your website stand out. We can not forget that the theme is SEO optimized, making sure that your content get a high ranking on search engines.
---
BeTheme – Responsive Multi-Purpose WordPress Theme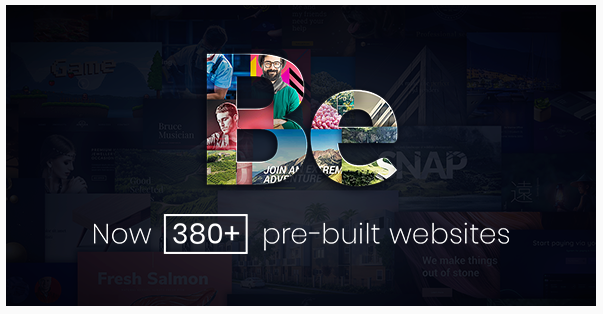 Be Theme is a modern WordPress multipurpose theme that is engaging, responsive and professionally designed to meet all of your needs. It is optimized for SEO and designed with the ultimate goal of meeting all the expectations of website owners across a range of industries, fields and interests. Be Theme comes with an amazing collection of different website demos that are fit for different niche markets. These website demos are polished for different applications while at the same time retaining an amazing approach to search engine optimization with all the SEO enhancements applied in a lightweight and slender manner straight from the codebase. Be Theme offers templates that are very easy to use, all that one needs to have is their own content to replace the demo content and get started with their website. If you are looking to expand your audience, raise your revenue and increase your traffic, then Be Theme is one WordPress theme that you can be assured of.
---
KALLYAS – Creative eCommerce Multi-Purpose WordPress Theme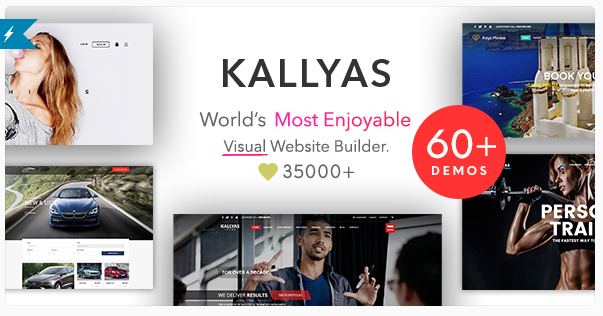 KALLYAS is a modern and dynamic WordPress eCommerce theme designed perfectly for different eCommerce options. It has being designed with a lot of attention to detail and special attention to SEO optimization. It comes with a visual builder that is packed with templates, demos and elements making it very simple to use the theme. It also has an amazing revolution slider – which is premium but you get it for free – that easily increases the engagement and exposure given to your content, allowing you to assign different content as sliders for your site visitors. The theme has versatile SEO features that gives you a chance to have your website ranking very high on search engines. This will allow you to drive up your traffic quite easily while hitting the right keywords. You will also get a perfect video and written documentation to guide you through every single step of setting up and using the theme. If you do not find something on the documentation, you are assured of professional customer support that will help you through with the theme.
---
SPIN SEO – SEO & Business WordPress Theme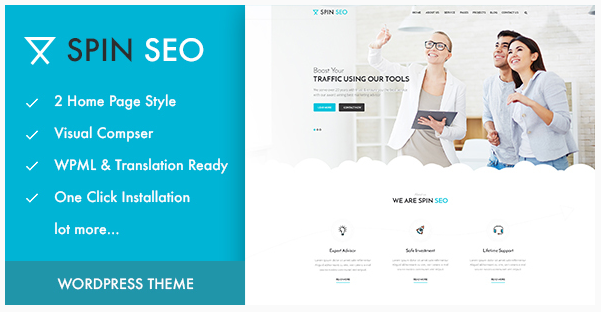 Spin SEO is a business WordPress premium theme that is SEO optimized and comes with a lot of amazing premium plugins with a one click demo install. It comes with several variations for project pages and blogs as well as two demo home pages with a child theme. This theme is suitable for all professional websites and employs a smooth, modern and clean concept. It comes with a visual composer that makes customization very easy for people of all backgrounds as well as a premium revolution slider for creating sliders for different pages and a contact form 7 plugin. It is ready for customization with shortcodes and translation with WPML. The theme offers some amazing color palettes and Google fonts for typography as well as parallax effects for backgrounds with awesome transitions. It has been designed based on HTML5 and CSS3. You can also add widgets, banners or pictures and take advantage if its high resolution support. It has a special attention to SEO optimization, making sure that your website will be well ranked on different search engines.
---
Tower | Business-Driven Multipurpose WP Theme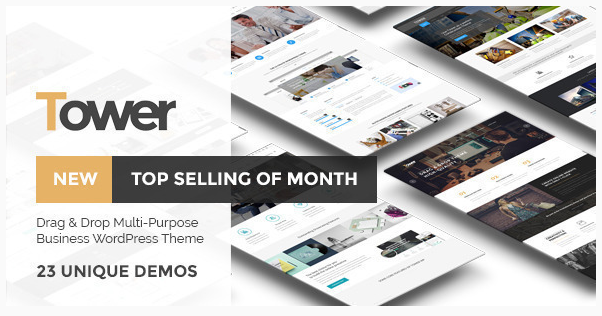 If you are a person who is after quality more than anything else, then this is the theme for you. This is one theme that you can be sure of in improving the design of your website as well as enhancing it. If you are designing your website for the first time, you will get a very detailed documentation with this theme, making is very easy for you to download and set up. The theme comes with an online page builder tool that allows you to design and build anything that matches your preferences easily and without any struggles. It also comes with a one click demo install that you can use and easily customize it to get started within a short period of time. It comes with up to eighteen different demos that can be implemented fairly easily. Any layout that you decide to use will be responsive, making sure that your website can be accessed easily from any device. This, together with the SEO optimization features on this theme, will open up markets and visibility to your site by making sure that resizing issues are eliminated and your website ranks fairly on any search engine.
---
Brando Responsive and Multipurpose OnePage WordPress Theme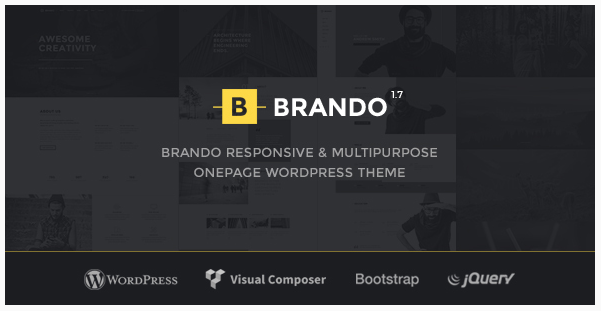 Brando is an elegant, easy to use, fully responsive, SEO customized and single page WordPress theme. It is a tech savvy theme that can be used by people from different backgrounds to easily design and develop their own websites with a modern single page design. This can be done fairly easily without even writing a single line of code. This is made possible by the visual composer that allows one to drag and drop different elements of the theme to build pages and customize the demo pages that come with the theme. The theme is based on modern web technologies with HTML5, CSS3 styling and the resourceful jQuery being its building blocks. The theme has been fully optimized for SEO with the SEO enhancements being implemented at all levels from the codebase up. This makes the theme excellent is ranking at the top on different search engines. It is perfect for online marketing websites, corporate and business websites among others.
---
H-Code Responsive & Multipurpose WordPress Theme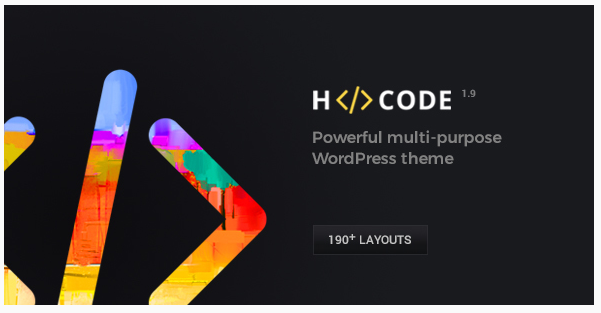 This is another SEO optimized WordPress multipurpose theme that has been designed with a special focus on its attractive appearance. It has been designed with all persons in consideration with a powerful admin panel with user interfaces that do not require any prior coding experience. It comes with more than fifty concepts that you can easily use to structure your website to match your different sets of needs. If you are an online marketer or a digital campaign manager, then this is one theme that would not let you down. This is due to the theme's extremely polished and perfect implementation of very good SEO enhancements taken from the codebase up. This gives your website designed from the H-Code theme a chance to rank among the top if not the top on search engine results resulting in very high levels of traffic which translates to high conversion rates. The theme also comes with a complete integration with WooCommerce which allows you to sell your products and services to your site visitors.
---
Paperio – Responsive and Multipurpose WordPress Blog Theme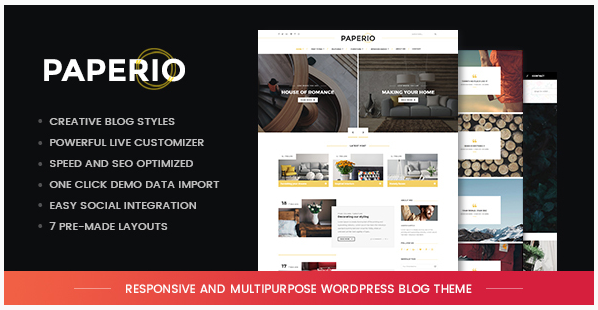 Paperio is a responsive WordPress multipurpose theme that has been optimized for SEO. It is one of the easiest themes to install and get started with and comes with up to seven unique and amazing website templates. Its visual interface for setting up the theme allows you to match and mix different layout elements and styles, customizing your website colors, styles and fonts within a couple of clicks. It also comes with many widgets that you can use to connect your content to your audience. It's a modern theme that employs the sharp AJAX technology. With its amazing enhancements in SEO optimization, this theme performs very well when it comes to ranking across different search engines. This makes you drive a lot of traffic to your website, leading to increased conversions. With traffic guaranteed, you will not have a website that is not fast enough performing well. This theme is also optimized for speed, making sure that there are no delays on the side of your site visitors. Try this theme if you are looking for class, SEO and speed optimization.
---
Conclusion
If you want to avoid all the work that comes with optimizing a website for SEO, then above are the best fifteen WordPress websites that are already optimized. All you need to do is to get started with one, and watch how fast you will get traffic generated to your website. This is one of the easiest ways to get started, even if you do not have any skills in coding since most of these themes come with a visual composer that allows you to just drag and drop content to build pages.